Blog
How to Get Online Reviews for your Small Business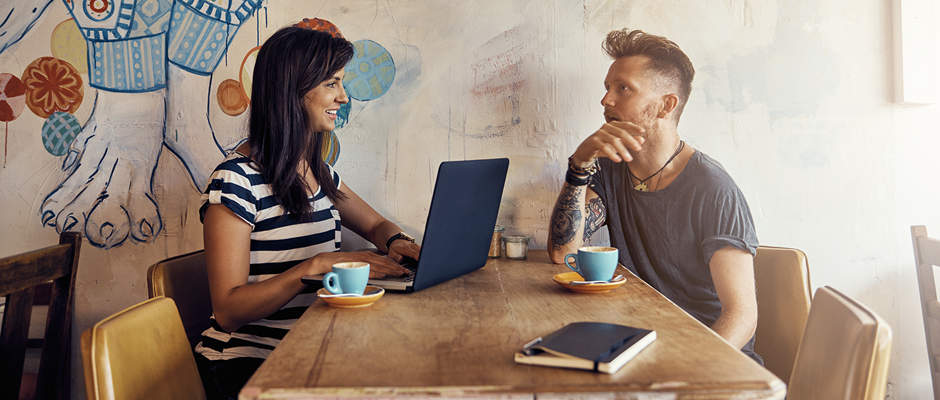 Consider the power of word-of-mouth marketing:
A friend tells you about a new restaurant. They rave about the fresh ingredients, the attentive service, the great prices – and how the burgers are out of this world.
Fast forward a few days. You're in the mood for a burger and you're looking for a place to eat. It's likely you'll at least consider this new place thanks to your friend's recommendation. And you'd probably choose it over a restaurant you know nothing about.
Now imagine they'd told you instead about the dirty plates, the rude service and the undercooked meat – would you risk eating there?
This is the power of reviews, and it applies to all businesses, not just restaurants.
Electricians, hairdressers, dog walkers, builders – whatever your profession, the conversations people have about your business play a big role in your current and future success.
And in a world of search engines, social networks and smart phones, more and more of those conversations are happening online.
The impact of online reviews
Just how important are online reviews? Findings from Search Engine Land's Local Consumer Review Survey have shown that:
- 72% of consumers trust online reviews as much as personal recommendations
- People typically spend 31% more on a business with excellent reviews
- 65% of users aged 18-24 look at reviews on social networks when making a purchasing decision
But what about local businesses with lots of foot traffic who are part of a smaller community? Are online reviews still relevant? Yes, yes and yes:
- 72% of consumers say that positive reviews make them trust a local business more
- 76% of consumers regularly or occasionally use online reviews when choosing between local businesses
- 52% of consumers reported that positive customer reviews make them more likely to use a local business
The evidence is compelling. So how do you take charge of your online reviews?
Getting your business registered with Google
While there are lots of review websites out there, start with the biggest hitter: Google. For most of us, Google is the first port of call when searching online, so it's essential your business shows up there too.
To get your business listed in Google search results, Google Maps and other Google services, you need to add or claim your business listing on Google My Business.
Next, you'll need to verify your business, or you won't be able to respond to reviews. Most local businesses do this by postcard, so you'll need a physical address.
If you don't operate out of a bricks-and-mortar premises, but instead provide a service to people where they are (like an electrician or plumber), you should register as a service-area business.
Don't be shy – ask for reviews
For businesses operating outside of the restaurant and hospitality industries, it's not always easy to get reviews. While many people are eager to comment on the state of their hotel bathtub, it's far less common for people to rave online about the efficiency of their plumber.
All the more reason to be direct and ask. Be polite, be courteous, but ask. It's a good idea to create a shareable link that your customers can use – see Google's short guide on how to create a link for customers to write reviews.
The best people to ask are obviously your most satisfied customers. And the best way to ask is in person, particularly if you've spent a lot of time with them (think of a builder who might spend weeks or months working on a project).
If you can't ask face to face, following up by email is a good alternative. There's no need for anything elaborate – just a straightforward request for an honest review of your service. Be sure to include the link you created in the previous step.
Join the conversation
So far, so good. You're registered with Google My Business, potential customers can find you on Google Maps and searches, and your first reviews are starting to come in.
Now, it's time to engage with your customers by replying to their reviews. For positive feedback, a simple and sincere thank-you note is generally enough to show your gratitude.
But what if, out of the blue, you get a negative review?
The first thing to remember is: remain calm. Never fight fire with fire – arguing publicly with a disgruntled customer is a guaranteed way to give others a bad impression of your business.
Instead, treat a negative review as an opportunity to improve. Listen to your customer's grievances, and think about how you could address them. Then, reply.
Let them know you're sorry, and explain any changes you plan to make based on their feedback. This is your chance to turn a displeased customer into a loyal one – research into online reviews from smallbusiness.co.uk suggests that 84% of shoppers would use a business again if they responded to a negative review by addressing their concerns, so it's more than worth your time.
Finally, remember the people reading your reviews are also reading your responses, so take advantage of this to demonstrate your commitment to customer satisfaction. A polite, considered response to a negative review will go a long way to reassuring any undecided potential customers.
Use positive reviews in your marketing
Now you've collected some positive customer feedback, why not get the most out of it? One way to maximize the reach of positive reviews is to use them in your marketing efforts – just make sure you ask for permission first.
Customer reviews can be used to great effect on printed materials like flyers, postcards and brochures, or even on the back of your business cards.
If you have a website (and it's a good idea even for small, local businesses to have one), be sure to feature reviews on it – highlight some of the best ones on a dedicated testimonials page.
Social media is another area of opportunity. If you run Facebook ads, create one featuring a customer review or quote and see how it performs. You can also write a regular Facebook post or tweet to publicly thank someone for a positive review. Be sure to tag or tweet the reviewer in your message, as this shows transparency and authenticity.
Always be improving
Ultimately, reviews and feedback are about one thing: improving the service you offer your customers. To stay ahead of the pack and keep satisfying your customers, this should be a constant process.
Think of it as a regular health check, and a way of keeping a finger on the pulse of your business.
And remember, receiving the occasional negative review is par for the course. Keep a positive attitude, embrace the opportunity to learn, and you'll see how online reviews will help your business grow from strength to strength.